Sheets & Giggles...
Shiggles
Can we get a Suey nominee for best advertiser?
In September, DLS listeners can use code SUEY for 20% off any order!
(Discount brought to you by The Greg Cote Show with Greg Cote, the sports podcast for finer palates.)
Thank You for 100,000+ Shiggles Sleepers!
"Game changer."
- Chris Cote

"Softer than the New York Knicks."
- Ryan Cortes

"Soft on the knees, and even softer on the environment."
- Ron Magill

"Softer than Witty."
- JuJu Gotti

"I got the sheets, and they're fabulous."
- Billy Corben

"A good product at a fair price."
- Roy Bellamy

"They made Cleveland tolerable."
- Amin El Hassan

"That company can go to hell."
- Mike Ryan

Real hoopers know >
The Perfect Gift
Does your partner enjoy puns, sleeping, and sustainability?

S&G makes a unique, thoughtful gift that says, "I love you, and not just on Sundays."

Plus, if you sleep with said partner, S&G is also a sneaky gift to yourself, too. In other words, it's a beddy play.

Bay-beh! >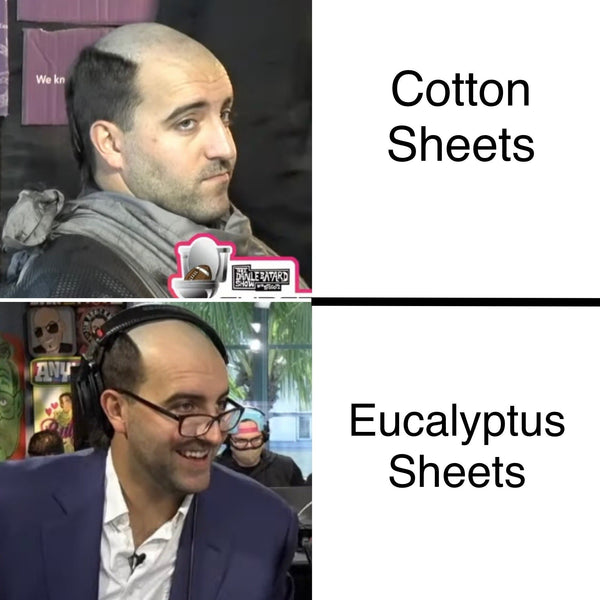 Sheets that Make You Feel Like a Fancy Lad
What makes S&G's 100% Eucalyptus Lyocell sheets so special?
‍
✓Scientifically Softer: perfectly cylindrical filaments create lower surface friction than even the highest-thread-count cotton sheets. Much like Mike Ryan's head post-shave, it's an impossibly smooth touch.

✓Temperature Regulation: unique cellular structure wicks away and evaporates moisture (i.e., sweat) more rapidly than other fabrics, keeping you dry and at the perfect temperature for uninterrupted, healing non-REM sleep. Even Art Briles' bedroom in hell would be cool as a cucumber with our eucalyptus sheets.

✓Unmatched Sustainability: vs cotton, our sheets use up to 96% less water, 30% less energy, and ∞% less pesticides (i.e., we don't use any). They're made via a closed-loop Lyocell process with zero runoff or hazardous chemical release. So sustainable, Elon Musk would've come up with them if he wasn't a complete fraud.

✓We try: we utilize zero-plastic and reycled packaging, have donated thousands of sheet sets to homeless shelters, and have even donated over $100,000 in cash to charity in our first 3 years – including $20,000 to Ron Magill's already sizeable endowment.
Dreamed Up in Denver
Our famous Eucalyptus sheets have so much to offer.

Top 10 Reasons to switch to Sheets & Giggles:

10) Temperature balancing to combat night sweats
9) Bottom left corner tags
8) Extra deep pockets
7) Softer after every wash
6) Antimicrobial, hypoallergenic, zero static
5) No pesticides or insecticides
4) Certified OEKO-TEX®, FKT®, Vegan, and UDSA BioPreferred
3) Dermatologist-recommended for sensitive skin and hair
2) Christmas gift
1) Supports the DLS
OLI: extra-long flat sheets
The Eucalyptus Mattress
Our natural Eucalyptus Mattress is made in the USA from 90% American materials and constructed from just4 main renewable ingredients: Eucalyptus Lyocell, latex from Rubber Tree sap, recycled polyester from post-consumer water bottles, and recycled US steel.

Expect zero foam, fiberglass, or off-gassing. 100% vegan.

It's the only mattress Chris Cote would ever let his wife have sex with Mike McDaniel on... what happened there?

Free Returns, 100 Night Trial, 9.8/10 Sex Rating >
Soft but Firm (Hell Yeah?)
Softer than a Tom Brady roughing-the-passer call, our Eucalyptus Lyocell fabric is also naturally temperature-regulating, so we covered our mattress with it.

Unlike a foam mattress, you won't overheat while you sleep, giving you longer, deeper, more healing non-REM cycles.

Two layers of renewable Talalay Latex create a breathable, buoyant cocoon, while over 1,000 tightly packed recycled steel coils provide a layer of firm back support.

It does it in the playoffs >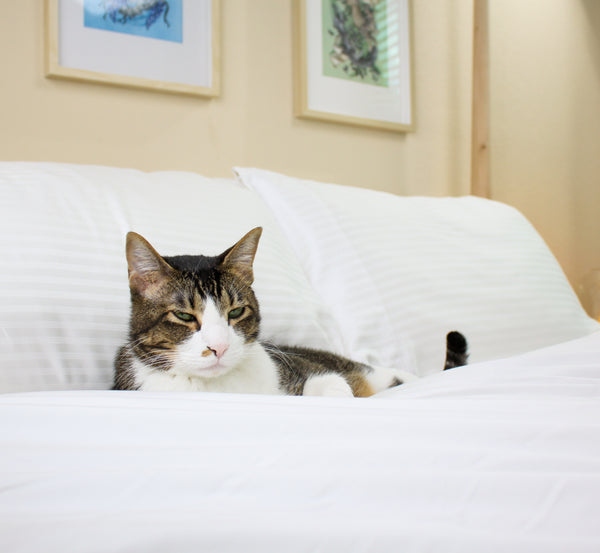 Hypoallergenic, Anti-Bacterial, Dust Mite Resistant
Bacteria grows up to 2000x slower in our Eucalyptus Lyocell vs cotton, and dust mites will die off instead of multiplying.

And our zero-static, smoother-than-cotton weave means pet hair brushes off easily, and washes out completely.

If only Schmitty were still alive to see this.
We Get The Show
We've been listening across the decades since day one on 790.

We used to call in to 786-456-4837 way before Wake and Take. We've seen the rise of Princess Claire, and the fall of Naked Chris (brought to you by Sheets & Giggles™).

We've got every rejoin memorized and mutter "Palacio De Los Jugos" in our sleep. We miss the Dirty Demon and Angel of Nuance, and randomly yell "Corn Elder!" when the mood strikes.

And we know that Greg Cote will just be happy that we mentioned his podcast (now also brought to you by Sheets & Giggles!) on this page.
Proud Supporters of DLS
S&G loves supporting the show. To kick off our relationship, we were proud to be the title sponsor of Dan's big roast in October 2021! We got to chat with Roy, Chris & Greg Cote, Ron Magill, and Dan (right before they played him off the stage).

Our CEO Colin (the Look-at-me-Louie in white) was the comedy kamikaze.

Since then, thanks to your support, we've been able to shave Mike's head, send Chris to the Super Bowl, banish Amin to Cleveland, help Billy Gil see Miggy's 3000th hit, and even fly Roy to the Stanley Cup in Denver.

Our CFO is extremely confused by Meadowlark invoices. Make his job less stressful and order something so we can keep doing this >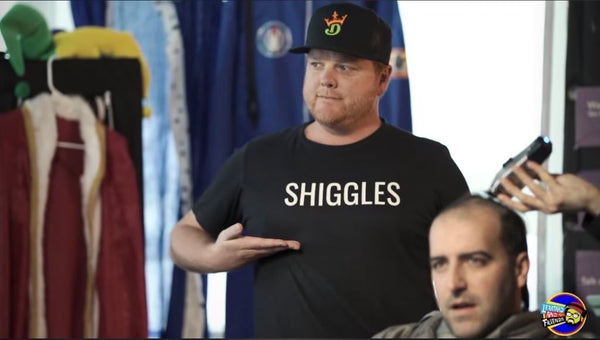 "In 20 years, not a single sponsor has done anything different." - Dan Le Batard
"Sheets & Giggles would like a word."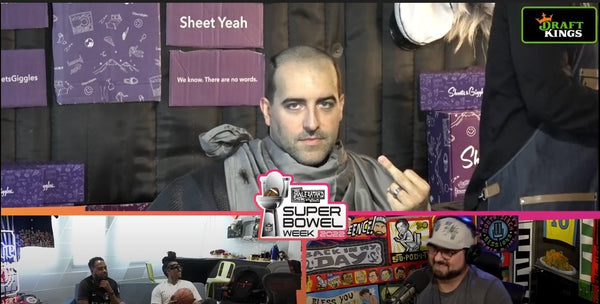 "This is not a good way to sell luxury bedding." - our CFO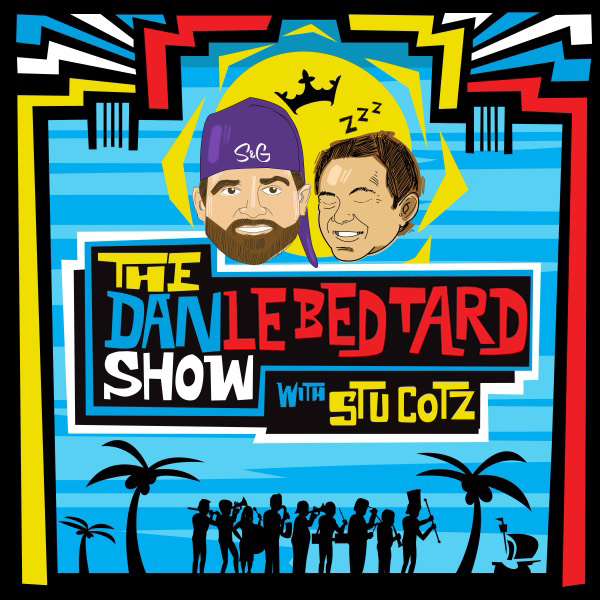 thank you
Thanks so much to Chris, Dan, Greg, and Meadowlark. It has been a dream come true for S&G to support the show and this community. We pride ourselves on being sponsors of faith, as there's a drive into deep left field by Castellanos, and that'll be a home run, and so that'll make it a 4-0 ballgame.

Sheets & Giggles... Shiggles >