How do I buy these sheets?!
Right here on our Indiegogo preorder.
Why should I purchase S&G on Indiegogo now instead of later?
Irresponsibly low pricing that we'll never offer again. For example, at a well-known bedding retailer that may or may not also dabble in bathroom accessories, you'd pay over 2x our preorder price for a King set of comparable quality.
Riskless return policy for Indiegogo customers: we're so confident you'll be obsessed with S&G that we include a return mailer in every order, and we'll cover the cost of return shipping for you. You can even keep the cool eucalyptus knapsack the sheets come in.
Every Indiegogo order plants a tree via our one-for-one partnership with OneTreePlanted.org.
Every Indiegogo order will have an extra surprise in it ;)
You get to try an extremely high-quality, sustainable fabric that we can guarantee you've never felt before.
While we don't take ourselves too seriously, there's no one more important to us than our earliest backers. That's why we'll send a random Indiegogo backer free pizza, booze, coffee, or something else fun each and every week of our preorder. Just for sheets & giggles.
As our resources grow with more and more preorders, we'll be able to offer you some amazing new products at different stretch goals: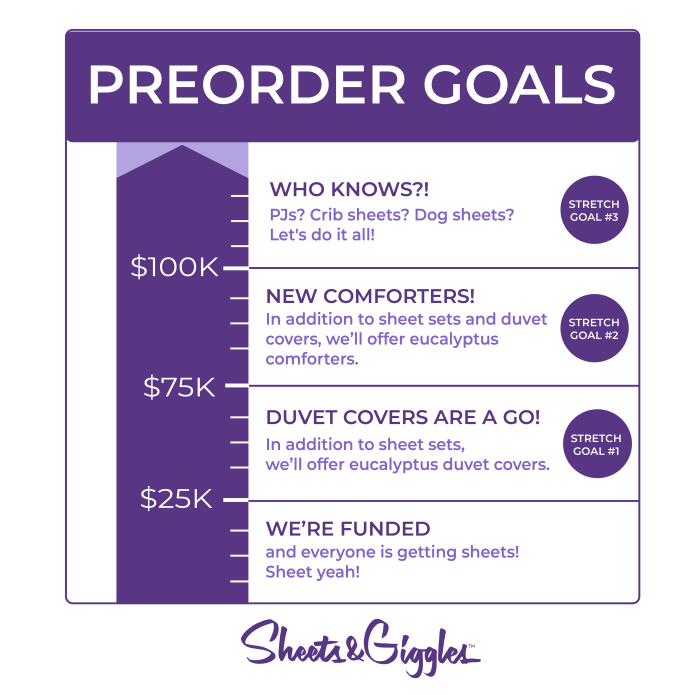 How will this Indiegogo campaign help S&G?
We've already finished months of product design, development, and testing. Based on the awesome initial interest we've seen, we've recently placed an order with our manufacturer for delivery to our Colorado warehouse this summer.
As a startup, meeting our Indiegogo goal will allow us to:
Go to market without significant additional debt or outside capital, giving us flexibility in our company decisions and allowing us to always put our customers first.
Ship all preorders on time in August 2018.
Prove that there's strong demand for sustainable bedding as an alternative to traditional cotton sheets. (And that the free market loves puns.)
Place an immediate reorder in case we sell out of our incoming quantity.
Exceeding our Indiegogo goal would allow us to:
Finally pay ourselves a living wage (/ any wage).
Add on more colors and patterns, including our own unique line of S&G artwork that we want to put on our sheets.
Expand our product line to include fun new items like duvet covers, comforters, PJ's, crib sheets, & more. (See graphic above for our stretch goals and what they unlock!)
Depending on preorder size, we may actually go nuts and finance expedited air shipping for our Indiegogo backers, which would speed up preorder delivery to July. We'd love to do this!
What's your thread count?
For our flagship sheet set, we chose a 400-thread-count eucalyptus with a corgi-puppy-smooth sateen weave. It's softer and more breathable than similar or higher thread count cotton weaves.
We'll eventually have different thread counts, but we're obsessed with this particular weave. During our testing, 400 TC felt imperceptible from 600 in terms of softness, but it was notably more breathable.
We partially based our final decision on a Facebook comment from a guy named Mark that suggested a lower thread count than 600 for better breathability while maintaining an incredibly soft feel. We gotta hand it to Mark: he was dead right.
What's in a sheet set?
All sizes except Twin and Twin XL:
- 1 flat sheet
- 1 fitted sheet
- 2 pillowcases
Twin and Twin XL:
- 1 flat sheet
- 1 fitted sheet
- 1 pillowcase
Can I buy extra pillowcases? I like pillows.
Yep! We have 100 sets of 2 pillowcases available for $19 (just scroll up).
I saw you had duvet covers. What's up with those?
They're 400-thread-count, made from 100% eucalyptus, and sinfully soft (but like a venial sin, not a mortal sin). We were only able to offer them after the outpouring of support from our initial backers, and we're offering them on preorder for 20% off our MSRP.
We also have a bundle (featured perk) for 25% off a combined sheet set + duvet cover purchase, if you'd like to save a few bucks. (Who doesn't?)
Can I buy just a fitted sheet and pillowcases? I'm a monster who doesn't use a top sheet.
Yes, and seek help. Click here for exactly what you need.
What's the cost of these bad boys?
Our MSRP for sheet sets will vary slightly depending on your mattress size, but our most expensive sets will be King and Cal King, priced at $99.99, plus shipping.
We'll start selling at our MSRP after our preorder concludes.
How does that compare to other bedding companies?
For comparable eucalyptus quality (when you can find it) at retail stores, you'd pay about $150 - $180 for a King set.
For something like a nice bamboo set from a cool hip online mattress company, you'd pay $129 for a King set. It's only 90% bamboo and probably overpriced, but hey, bamboo is a sexy fabric right now. Even the word is nice. Bamboo.
We also see some online bedding competitors selling 270-thread-count cotton sheets for like $130 for a Queen set... which again, what. Those folks also sell 270-thread-count duvet covers made from unsustainably sourced cotton for $115, and 2 cotton pillowcases for $40... they should be ashamed of themselves.
Do you have sheets in [my bed size]?
Yes.
Will they fit my insanely huge 20" mattress?
Yep. Our corners are super deep – like questioning-your-existence deep – so our sheets comfortably fit mattresses up to 20" thick.
Most other fitted sheets only cover up to 16" mattresses, which seems small nowadays. There's literally nothing more frustrating than vainly trying to stretch a too-small fitted sheet over a mattress, pulling with all your might at that last corner... we're getting annoyed just writing this.
Colors?
At launch, we'll have five vibrant colors in our own shades of white, purple, blue, gray, and Navy. Our colors will be named (respectively) Pillow Talk, Sweet Dreams, Early Bird, Night Owl, and Midnight Snack. Scroll up to the middle of this page to see our colors (please note that your computer screen probably makes the colors vary a little bit from their actual shades; white for example is a super bright white, but it looks off-white here).
What are the dimensions of each sheet size?
Fun  fact: our flat sheets are all a bit larger than industry standard, and a few more inches can make all the difference.
Twin:
Flat Sheet: 70" W x 96" L
Fitted Sheet: 39" W x 75" L
Pillow Case: 21" W x 31" L
Twin XL:
Flat Sheet: 70" W x 96" L
Fitted Sheet: 39" W x 80" L
Pillow Case: 21" W x 31" L
Full:
Flat Sheet: 81" W x 105" L
Fitted Sheet: 54" W x 75" L
Pillow Cases (2): 21" W x 31" L
Queen:
Flat Sheet: 90" W x 110" L
Fitted Sheet: 60" W x 80" L
Pillow Cases (2): 21" W x 31" L
King:
Flat Sheet: 108" W x 110" L
Fitted Sheet: 76" W x 80" L
Pillow Cases (2): 21" W x 41" L
Cal King:
Flat Sheet: 108" W x 110" L
Fitted Sheet: 72" W x 84" L
Pillow Cases (2): 21" W x 41" L
Queen Duvet Cover: 88" W x 96" L
King Duvet Cover: 107" W x 96" L
How are shipping costs calculated?
By estimated billable shipping weight of each size perk, subsidized slightly by the company. For example, a single set is $9 shipping, but it should cost us slightly more than that to ship it most places in the US.
A ton of startups get into trouble by not charging enough for shipping up front and then going back to their backers for more shipping funds, so we're trying to be as accurate as we can on shipping so we have enough cash on hand to fulfill all orders in August.
Why is Split King more expensive than other sets?
For those that don't know, a "Split King" set is two fitted Twin XL sheets, a Cal-King flat sheet, and 2 King pillowcases. It's... hard to find, and usually pretty expensive.
Based on pre-launch social feedback from the S&G community, we decided to build a custom Split King set on the fly for 25 people who want one (hyper limited quantity). To do this, we're going to break apart and combine pieces from two Twin XL packs and one Cal-King pack, and we'll be left with the remnants of those three packs. We already made our first manufacturing order in terms of "sets," so that's what we're doing at launch to satisfy everyone's needs.
Because we're a young company, we're unsure if we can sell the remaining loose pieces (2 flat Twin XL sheets, 1 fitted Cal-King, 2 Queen pillowcases). We likely won't be able to manage and protect that leftover inventory once it's out of its packaging, so we plan to donate them to our partner homeless shelters and take a small financial loss on those packs.

On the price itself, we saw that Sleep Number® offered a 70% Eucalyptus Lyocell blend Split King option for $259 (geez), so we thought $149 was an aggressive price for our 100% Eucalyptus Lyocell Split King set.
Our MSRP for Split King reflects what we believe we'd have to sell Split King for in order to make a small margin on the transaction. Post-preorder, we'll evaluate whether or not it makes sense financially and logistically to keep offering Split King over the long term.
Where are they made?
Designed in the USA (by our teams in Denver and LA) and manufactured by our partner in India.
What's this #Give2Sheets thing I keep hearing about?
Every year, 10 million tons of textiles wind up in landfills – sheets included. Coincidentally, blankets are the #2 most-requested item at homeless shelters.
In every order, we'll include a pre-addressed parcel for you to ship us your other, now-extraneous sheets and blankets. We'll donate them to a partner homeless shelter – like the St. Francis Center in Denver – via our #Give2Sheets program.
It's a win-win: you get to help others in a real, tangible way, and you get to share your good deed on social media with a punny hashtag.
What's your return policy?
It's whatever you want it to be, baby.
We include a return poly mailer in every order so you can either donate your old sheets and get 10% off your next order for being a good person (#Give2Sheets), or so you can return your order to us for whatever reason. We'll have a page on our site for printing out a pre-paid shipping label for you, whether you're donating or returning.
No arbitrary time limits, no questions asked. Although, if you use our sheets for a year and then want to return them, we'll probably call you out on that.
(And of course, all returns get donated.)
Are these stretchy? But not like... TOO stretchy?
This is a pretty subjective question, but we get why you're asking. No one likes it when their mattress becomes a drum because of their sheets.
Our material is stretchier than cotton, but not overly stretchy like a t-shirt. We think it's just right. Plus, our fitted sheets have extra deep corners that fit on up to 20" thick mattresses, so you'll sink right in to your bed – we made a video demonstrating this for a guy named Taylor that asked us about this on Facebook.
That said (marketing answer ahead), if you don't 100% love them, just pop them in the return mailer we include with every order, and we'll even pay for return shipping.
What else is cool about them?
A tiny-but-purposeful wraparound tag on the lower left corner of the fitted sheet lets you know which corner to always put on first (which solves a huge pain point for us personally).
Do you ship internationally?
Unfortunately not at this time, as we're unable to affordably ship to various locations across the globe and don't want to overpromise that we can fulfill international preorders. That may change in the near future, so please sign up for our emails if you'd like to stay posted on where we'll ship.
If you're from Hungary, szia! (We love Budapest.)
Is this like Tencel®?
Kinda, but not really.
Tencel® is a registered trademark for a massive manufacturer that sells lyocell, which is the technical name for our eucalyptus fabric. Just by virtue of their size, pretty much all the lyocell you see on the market is Tencel®, but not ours :)
We consider S&G's lyocell to be the best on the market, and we're excited to introduce people to something they've never felt before.
What are your certifications?
All our products are OEKO-TEX® 100 certified. OEKO-TEX® is the international safety standard for textiles. In their words, it's a "worldwide consistent, independent testing and certification system for raw, semi-finished, and finished textile products at all processing levels, as well as accessory materials used."
There's a ton that goes into their testing, but the long and short of it is that "All product components have to be harmless without exception."
Can I bleach these?
No.
I thought I heard somewhere that eucalyptus is endangered?
There are over 700 species of eucalyptus, and sadly 26 of them are endangered. We can assure you that we don't harvest any of those endangered species (that would be immoral and super illegal).

In fact, we don't harvest from ancient or endangered forests at all, but instead source wood from our own sustainably managed and renewable eucalyptus plantations.
What about the Koalas? Are you taking eucalyptus from them?
Koalas eat eucalyptus and sleep for 20+ hours a day; they're basically our heroes. And sadly, Koalas' natural eucalyptus forest habitats are being devastated by urbanization and wildfires in Australia. It's a real problem.

Happily though, our suppliers don't harvest any of our eucalyptus trees from endangered or ancient forests, and instead we grow our eucalyptus on sustainably managed plantations in South Africa, Canada, India, and Sweden.

Plus, for every single order we receive, we plant a new tree in an area that needs reforestation (almost 1,000 new trees planted in just the first week of our Indiegogo campaign!). We'll expand our conservationist efforts over time to include donating to charities that work to protect Koalas.


Is this safe for animals and my mother that has an allergy to eucalyptus?
Yep. While it's true that animals can have a bad reaction to eating eucalyptus leaves, our sheets are made out of the bark of the plant and are processed into 100% safe fabric. This also means that if you have a bad reaction to eucalyptus scent, oil, or other products, that you should be a-ok on our sheets.
Do they smell like eucalyptus?
Nope, they're scentless.
So... why do people still use cotton?
Beats the hell out of us. It's one of those "we've always done it this way" things. Which is the worst reason to do anything.
Do you have your own cryptocurrency?
We're glad you asked. We'll be issuing our own bedroom-based cryptocurrency, Sheetcoin. Consider Sheetcoin as the opposite of Bitcoin: it exists in real life (as bed sheets), holds stable intrinsic value for many years, and actually helps you sleep peacefully. Side note – 24/7 exchanges for crypto… who thought that was a good idea for anyone's circadian rhythm?
Really?
No, not really.
But we will accept Bitcoin, BCH, Ether, and Litecoin as payment on the off chance someone out there actually uses it to buy things.
What's my name?
Ashley.
(For all of you not named Ashley, this bit wasn't intended for you.)
I think I love you. Are you free this weekend?
We could maybe squeeze in brunch on Sunday. Pick a place with bottomless mimosas please 🥂
 1 Ecoinvent Database
2 Environmental Justice Foundation